Amazon announces the new Amazon Echo 4th gen, Echo Dot 4th gen , Echo Dot with Clock 4th gen with spherical design, better sound and much more
Amazon Echo devices are quite popular and Amazon have now launched Amazon Echo 4th gen ,Echo Dot 4th gen , Echo Dot with clock 4th gen. Amazon says the new Echo Family has better hardware, enhanced audio and better experience interacting with Amazon Alexa.
"These are the best Echo devices we have ever made," said Tom Taylor, Senior Vice President, Amazon Alexa. "Echo and Echo Dot look beautiful and sound even better, and Echo Show 10 completely reimagines Alexa with a screen—the display moves with you, staying in view as you move around. It's as natural as having a conversation. Plus, Alexa continues to get smarter—just ask to watch Netflix, make group calls, join video meetings on Zoom, upgrade your smart home with Alexa Guard and Amazon Sidewalk, and much more."
Echo Dot 4th Gen & Echo Dot with Clock 4th Gen
Echo Dot 4th gen and Echo Dot with Clock 4th gen will have a spherical design and with fabric finish as the earlier Echo devices along with 1.6-inch speaker which Amazon says will produces "crisp vocals and balanced bass for full sound". The "Tap to Snooze" feature is now available on Echo and Echo Dot.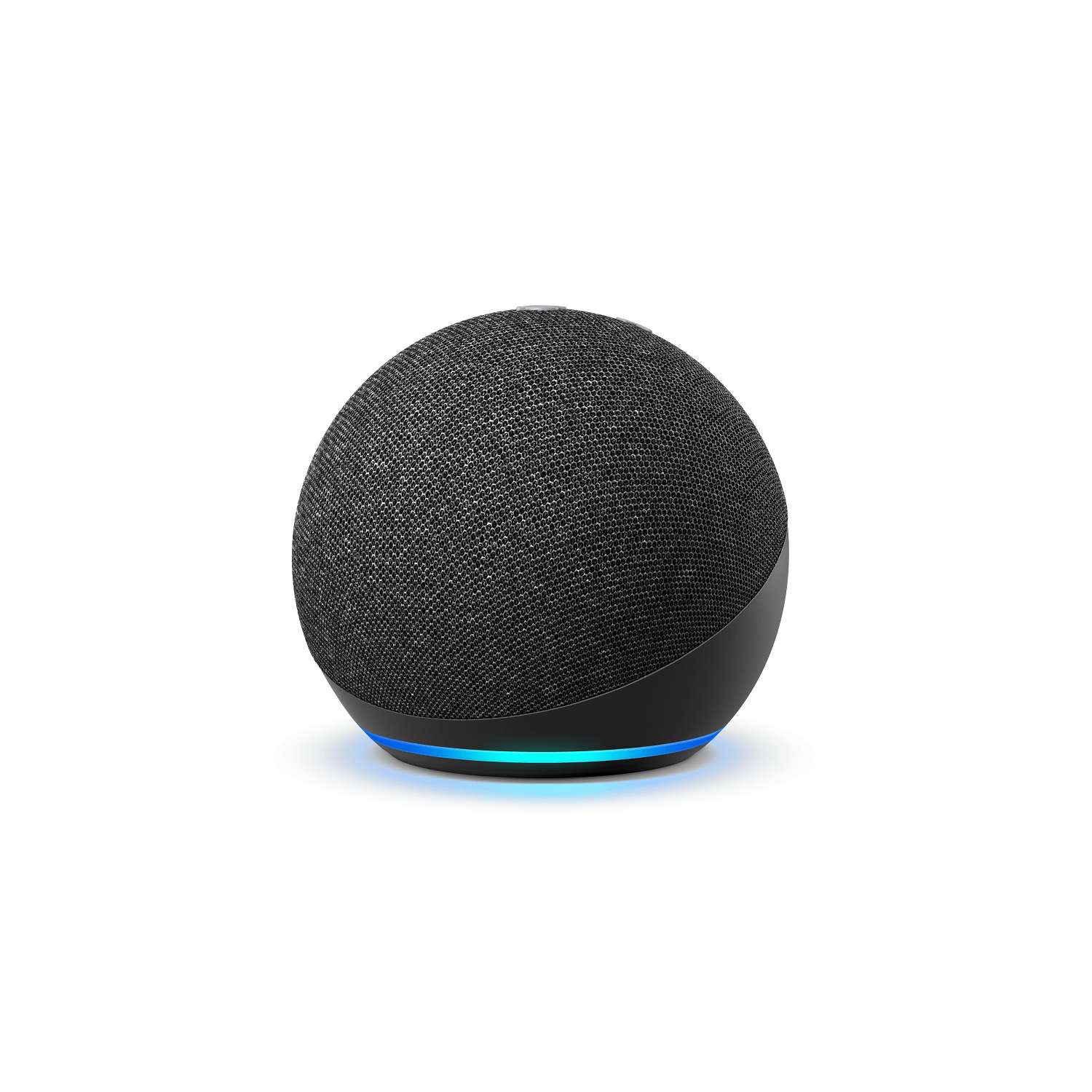 Meet the all-new Echo Dot—our most popular smart speaker with Alexa. The sleek, compact design delivers crisp vocals and balanced bass for full sound.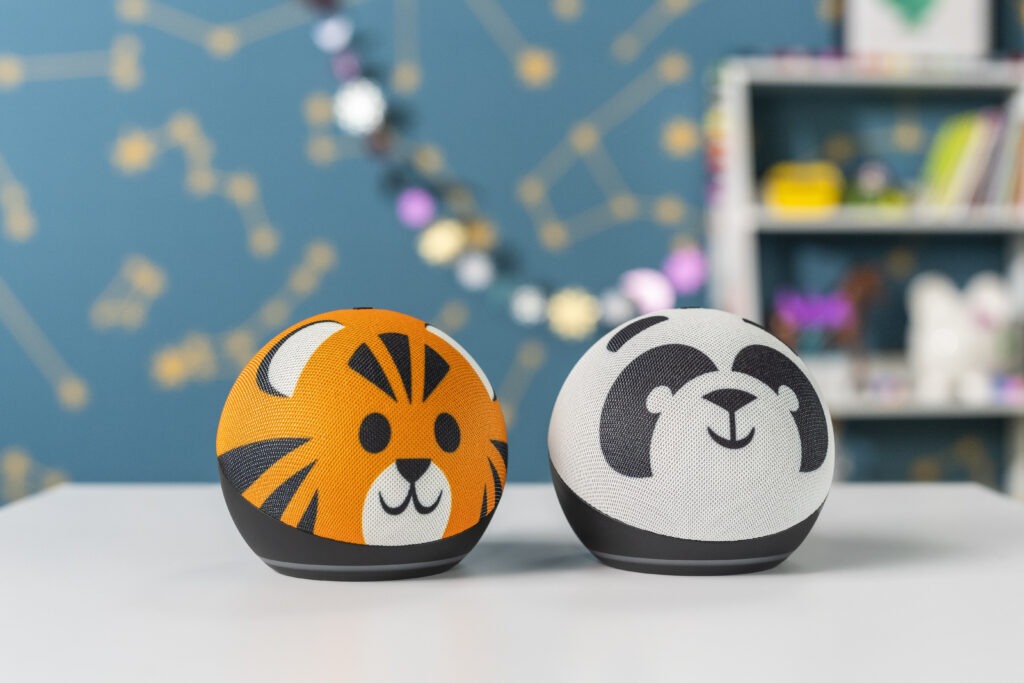 Echo Dot with Clock also will the same design but with a digital clock with a LED display which will show temperatures, alarms, timers. Amazon also introduced the new Echo Dot Kids Edition with same spherical design but with Panda and Tiger prints. The Amazon Kids Edition will come with free 1- year Amazon Kids+ subscription, which will have lots of free audible books and games.
Echo Dot 4th Gen will be available in Charcoal, Glacier White, and Twilight Blue. Echo Dot with clock will be available in Glacier White and Twilight Blue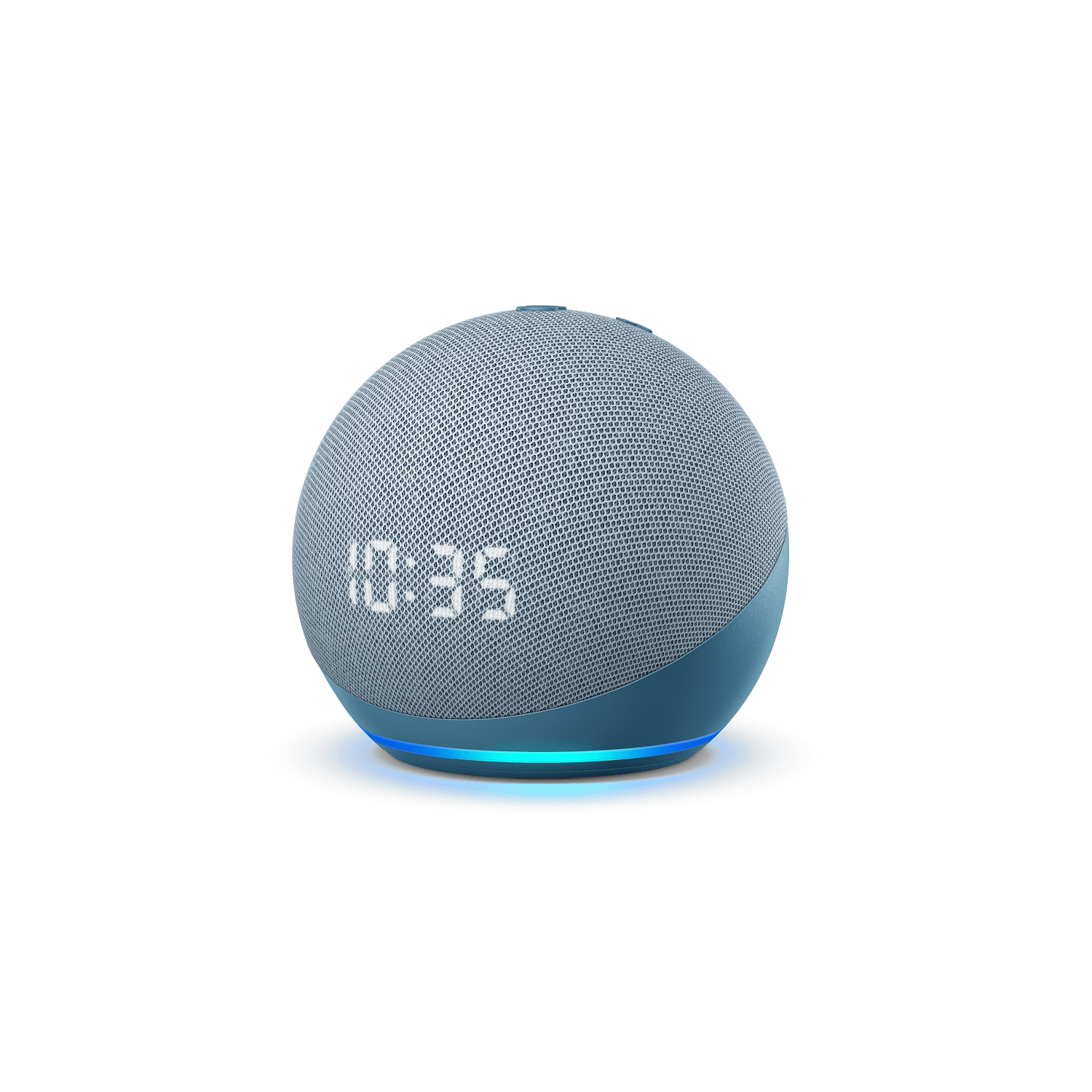 Meet the all-new Echo Dot with clock—our most popular smart speaker with Alexa. The sleek, compact design delivers crisp vocals and balanced bass for full sound.
Amazon Echo 4th Gen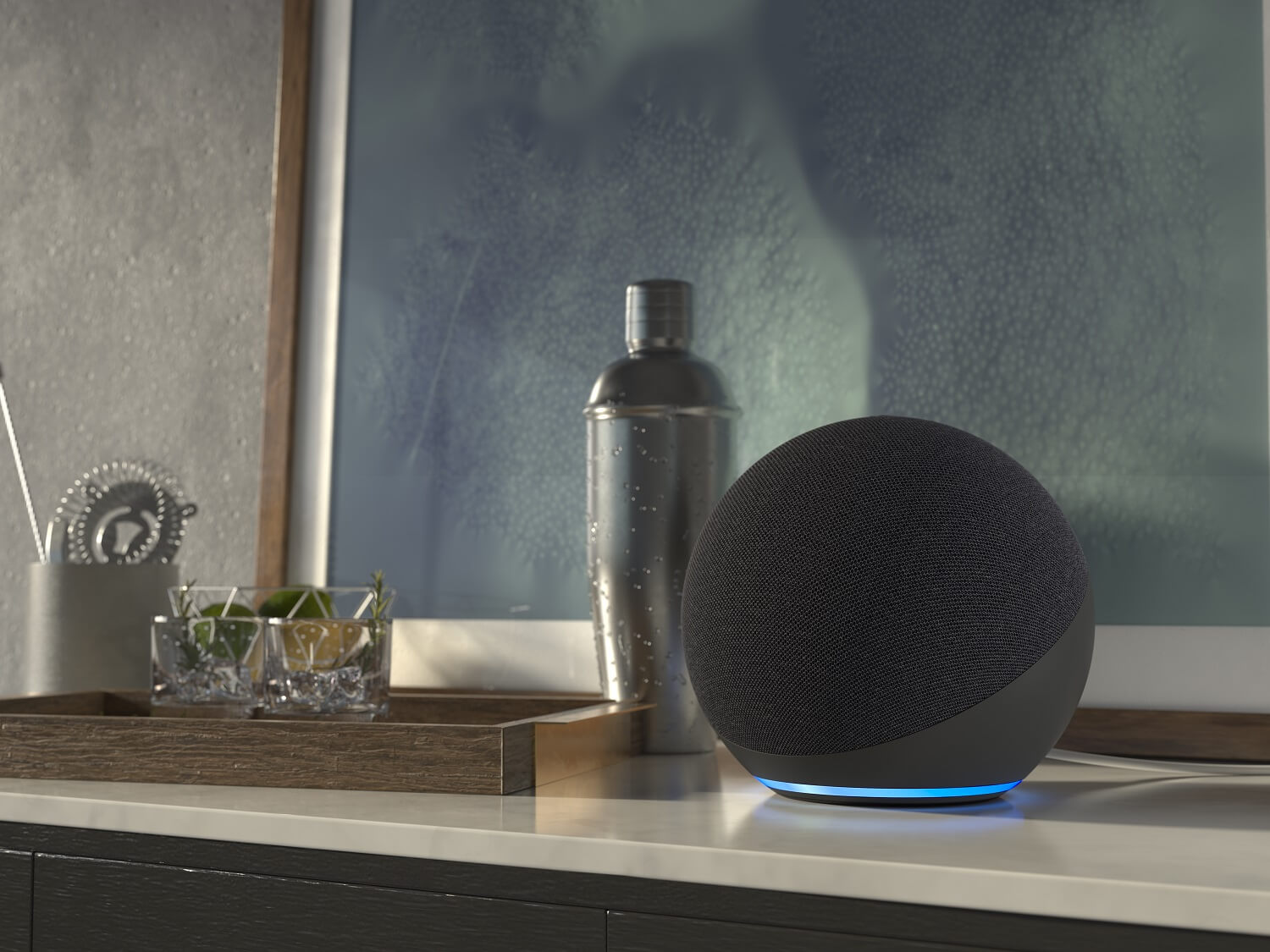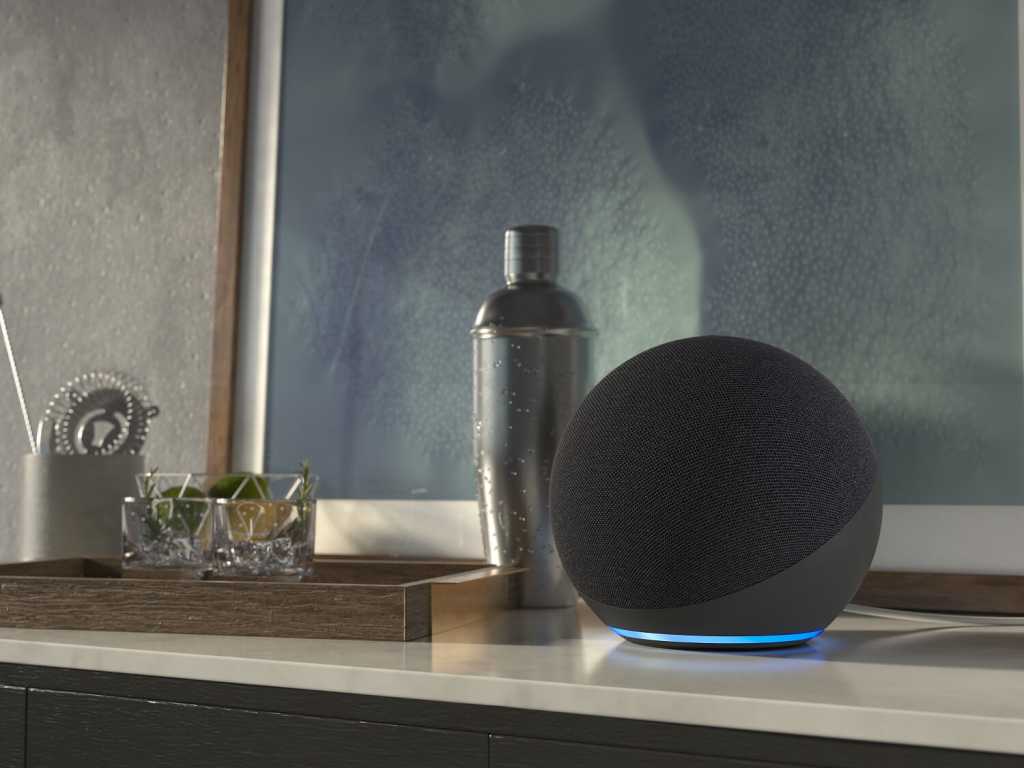 Amazon Echo 4th gen also now has the spherical design and fabric finish and plastic base like the Echo Dot. Echo 4th gen now has 3-inch woofer and a dual-firing tweeters with Dolby sound. The blue light which activates when interacting with Alexa is now on the bottom on the speaker. The back of the Echo has power port, 3.5mm Aux line In/Out port for connecting a bigger speaker. Echo devices have the physical microphone on/off button.
The new Echo is powered by Amazon's first-generation AZ1 Neural Edge processor—an all-new silicon module that's purpose-built for accelerating machine learning applications. With AZ1, powerful inference engines can run quickly on the edge—starting with an all-neural speech recognition model that will process requests faster, making Alexa even more responsive.
The AZ1 processor will help reduce the response by processing the requests locally which makes Alexa more responsive. The AZ1 processor will make the speakers sound better and accurate as per Amazon. The Amazon Echo 4th Gen has the smart home hub capabilities built-in similar to what was in Amazon Echo Plus 2nd Gen but not in 3rd gen Echo. With better speakers, the neural edge processor and smart home hub Amazon echo 4th is much better when we compare amazon echo 3rd gen vs 4th gen.
Amazon Echo will come in three colours : Charcoal, Glacier White, and Twilight Blue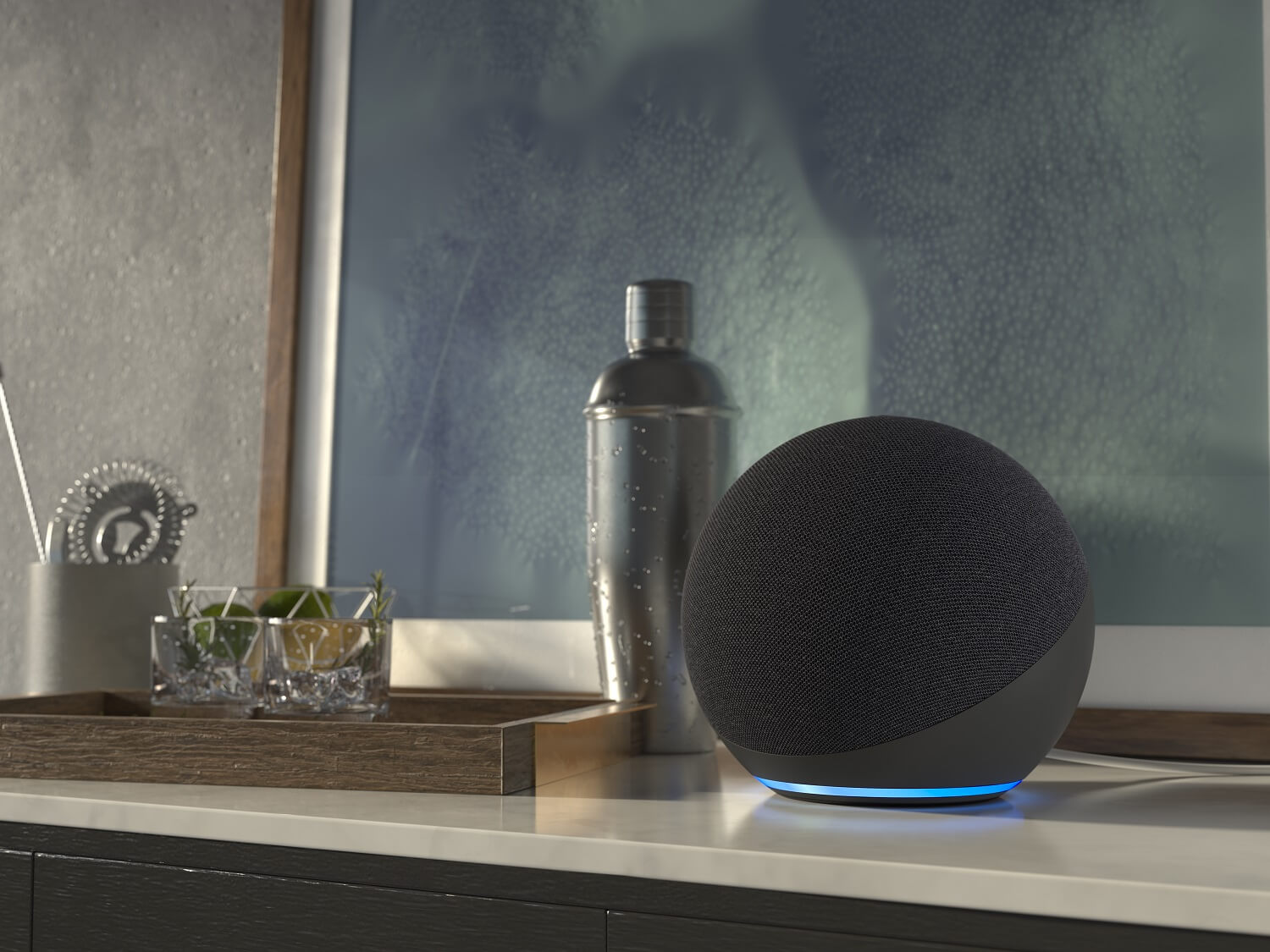 New look, new sound—Echo delivers clear highs, dynamic mids and deep bass for rich, detailed sound that automatically adapts to any room.
Echo Show 10 – Now supports with Netflix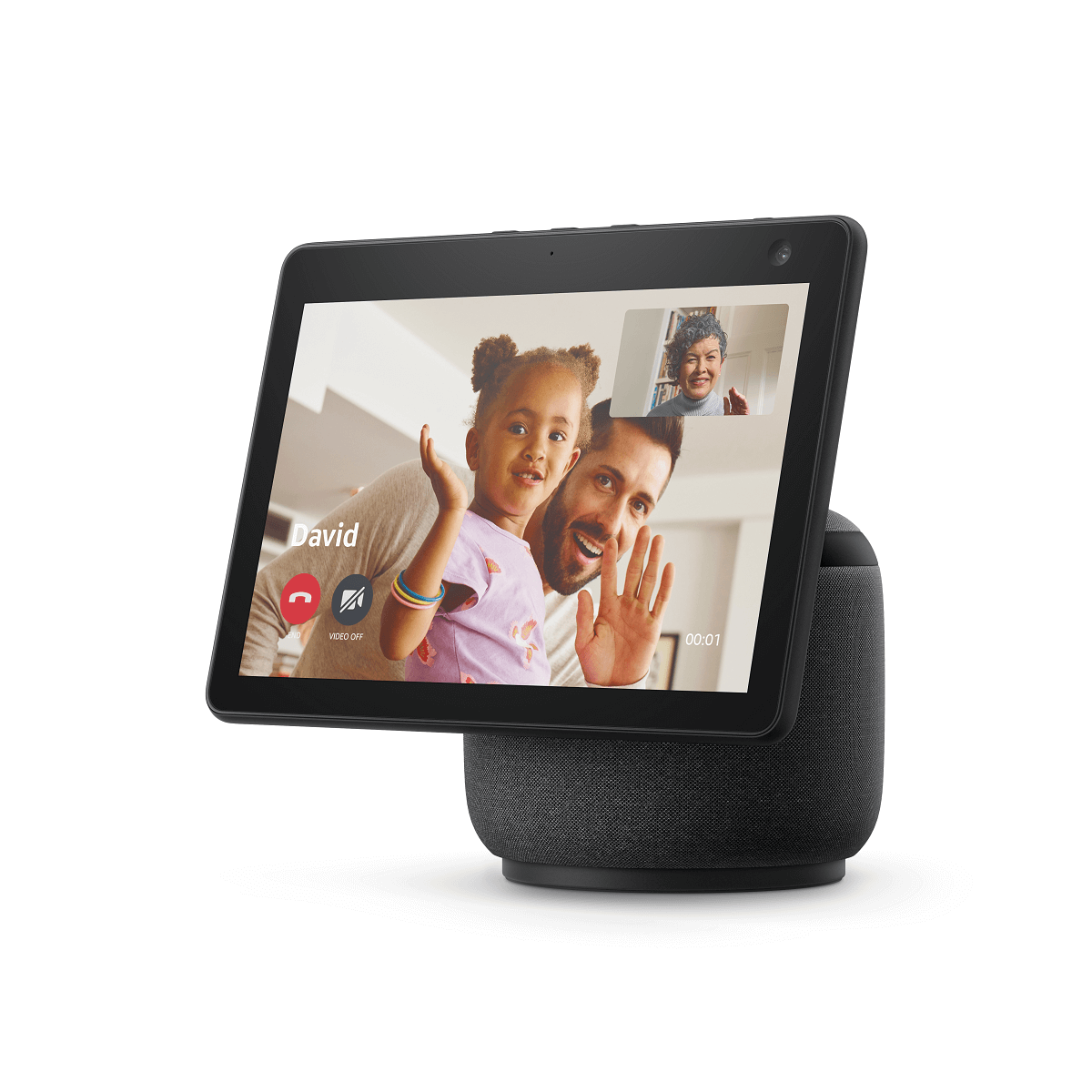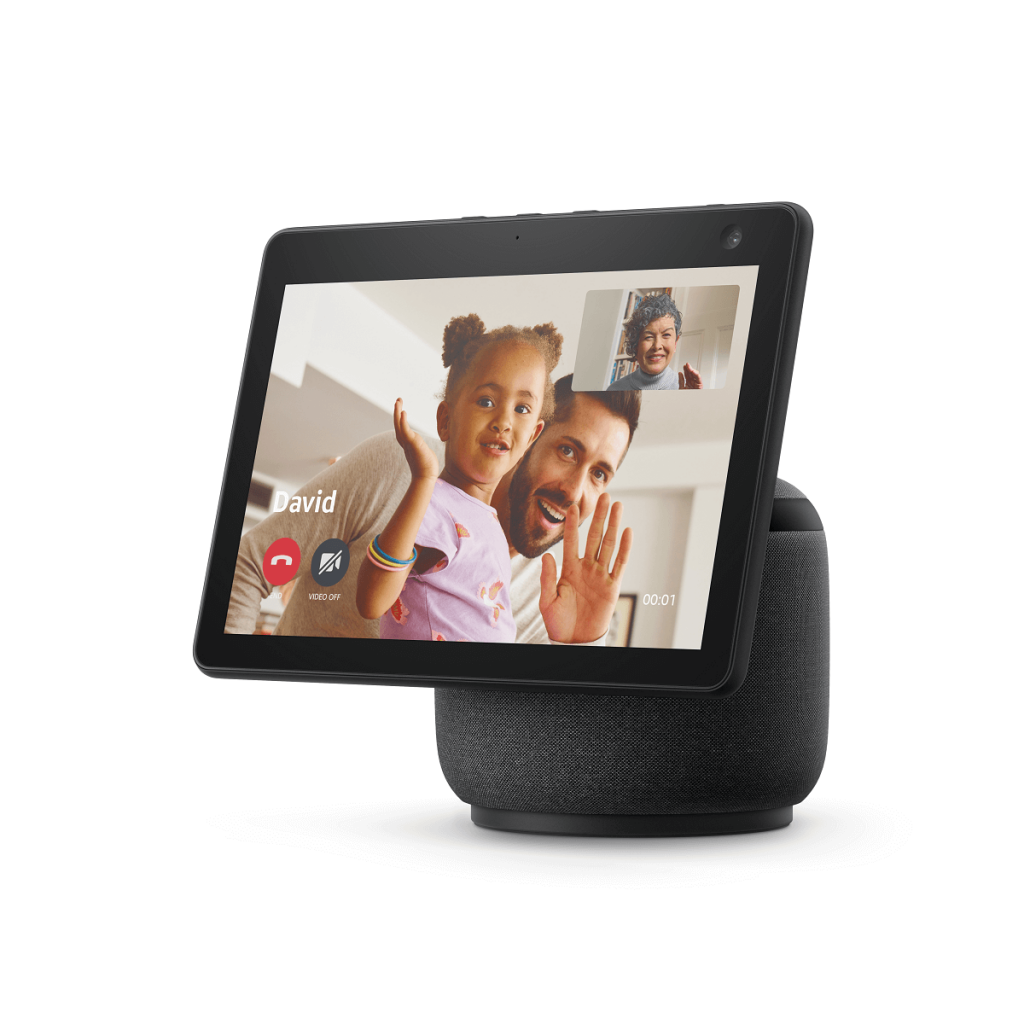 Echo Show 10 has been also been redesigned in-line with the spherical design that the other Echo devices now have. Echo Show 10 now has a 10-inch adaptive HD display that detects were you are located in the room and rotates accordingly. When you request Alexa for e.g. to make a video call and if you are out the frame, the screen will rotated to bring you in the frame even if you are moving. This is very interesting feature from Amazon on the Echo Show 10 and would need to be tested to check the reliability and durability of the display.
Checkout the Amazon Echo Show 5 vs Echo Show 8
Echo Show 10 will have a 13 megapixel camera on the right top of the device and will have all the privacy physical button like the camera shutter slider switch or the microphone mute button. The Echo Show 100 will have a woofer and and dual front firing speakers.
Echo Show 10 has an option to switch off the display movement. Amazon utilises the display movement to provide security with the room, when you switch the 'Alexa Guard' to away mode, the device periodically move to display and if detects movement in the field of view, it will send an alert on your app. You can also have a live feed from Alexa app or other Echo Show and even zoom and pan the camera.
"Improving our member experience includes making Netflix available where people want it. We're excited to partner with Amazon on bringing the Netflix experience that people know and love to Echo Show, making it easier for our members to browse their favourite shows and films using their voice," said Barry Smith, Partner Engagement Manager, Netflix.
Amazon Echo Show 10 will now support Netflix and now you can search your favourite shows from Netflix through Alexa. This is feature will be available soon and towards the end of 2020.
The all-new Echo Show 10 will be available in Charcoal and Glacier White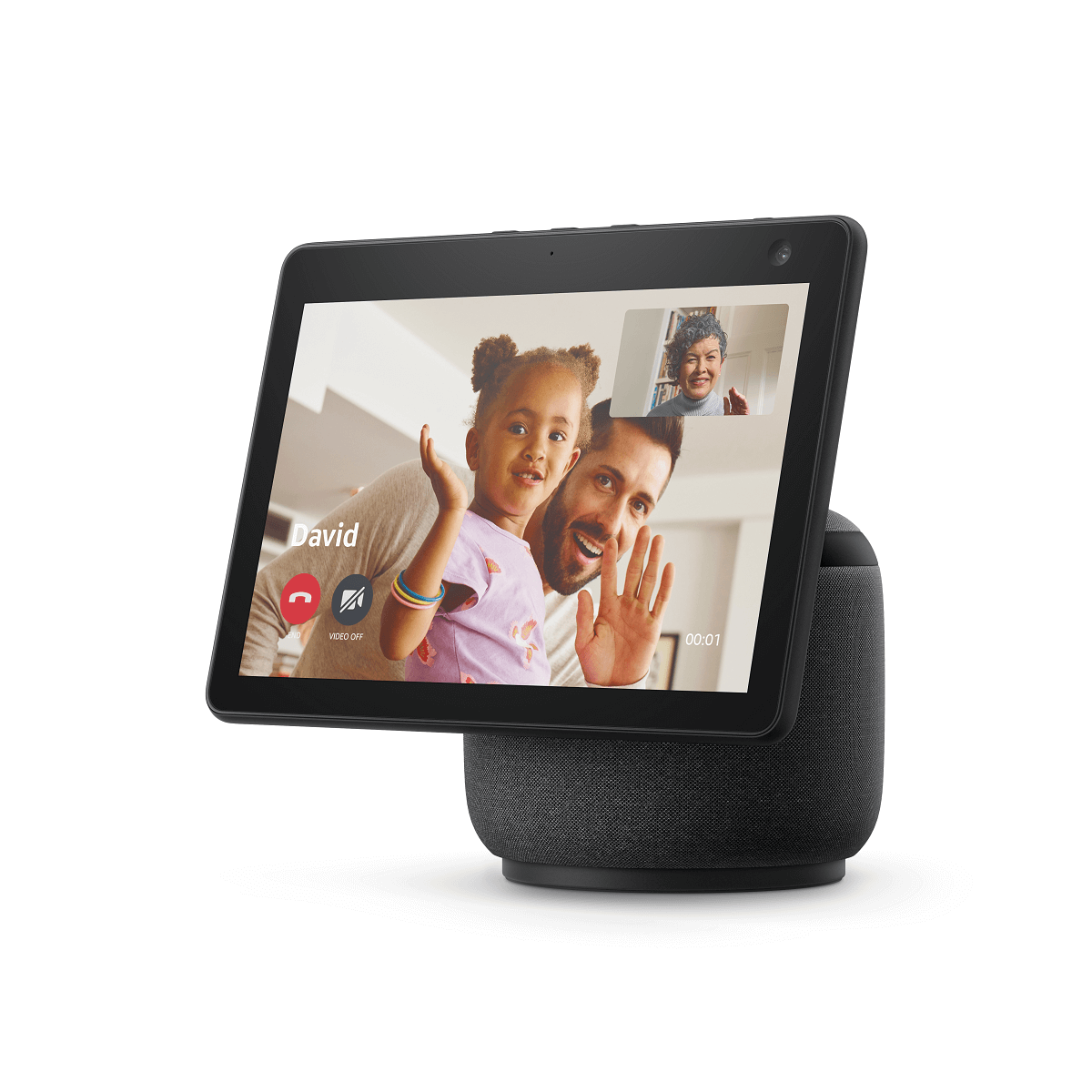 Designed to move with you—with a 10.1" HD screen that moves automatically, video calls, recipes and series are always in view. The speakers deliver premium, directional sound.
This site contains affiliate links to products. We may receive a commission for purchases made through these links.